Our clients originally hoped to renovate this New England Style home on Portland's Munjoy Hill. This couple of "empty nesters" became acutely aware of economical realities and impracticalities of a deep energy retro-fit and it became apparent that starting from the foundation up would be a more sustainable
way to go for the long term.  A new home would have the opportunity for better insulation with fewer challenges of weatherizing properly without the pitfalls of potential mold growth etc. It would therefore preform better over a longer period. Our clients were downsizing from 3200 square feet of living space to less than 1600 square feet.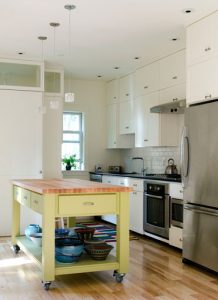 With parameters clearly set on the postage stamp lot, we were hired to design a smart, efficient,  healthy house scaled to lives that needed simplifying. It began with an Insulating Concrete Form foundation, a permeable driveway and proper drainage away from the house. These are critical features for a house sited on a hilly, thickly settled neighborhood that is also perched on a harbor.
The quality of finishes on this home is what we as architects enjoy most. It was a pleasure to work with both homeowners and the builder Rick Romano (who was born and raised on "The Hill"). His craftsmanship was central to details, such as the creation of balusters that reflect the homeowners desire for a more feminine form and incorporating a stained glass window that was in the owner's father's home when she was a child. Other materials were repurposed or sourced from salvage resources, as was a claw foot tub in perfect condition, which came from an old home up the coast for just a few hundred dollars.
"Rick crafted our shingled exterior with a distinctive four-inch reveal and mitered the corners "tight" in quasi-antique style. He allowed Dave to participate and save money by staining the shingles himself – over 100 bundles. Rick designed the exterior trim to resemble his mother's house on Morning Street, and added a natural-finish bead-board ceiling to the front porch."    -The homeowner boasted about the builder in her blog
Whipple-Callender Architects designed a roof pitch side porch and square bay window resembling neighboring buildings. This conversation between the new and old was important to our clients who wished to respect the vernacular of working class neighborhood homes, yet allow for modern flourishes. Daylighting was key to the over all look and feel of the clean and crisp interior. Many South and East facing windows pool light into the home, whereas the previous structure was much more dark inside.
Re-locating to the most hip and desirable neighborhood in this small coastal city allows the owners to depend less on their cars for day-to-day needs.  It is a comfortable walk to most areas of the city and a few steps from their front door are breathtaking views of the Portland Harbor and Casco Bay who wouldn't want to walk.  "The HIll" as it is affectionately referred to, is "the" destination to celebrate the 4th of July in Maine and  award-winning chefs are opening small scale but "big-taste" eating establishments making this home a welcoming place indeed.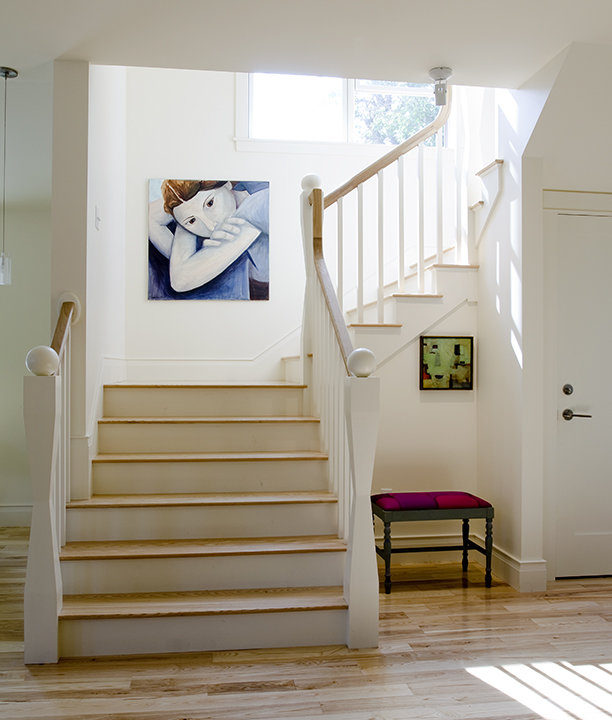 To see more images of this project, please view our portfolio section.