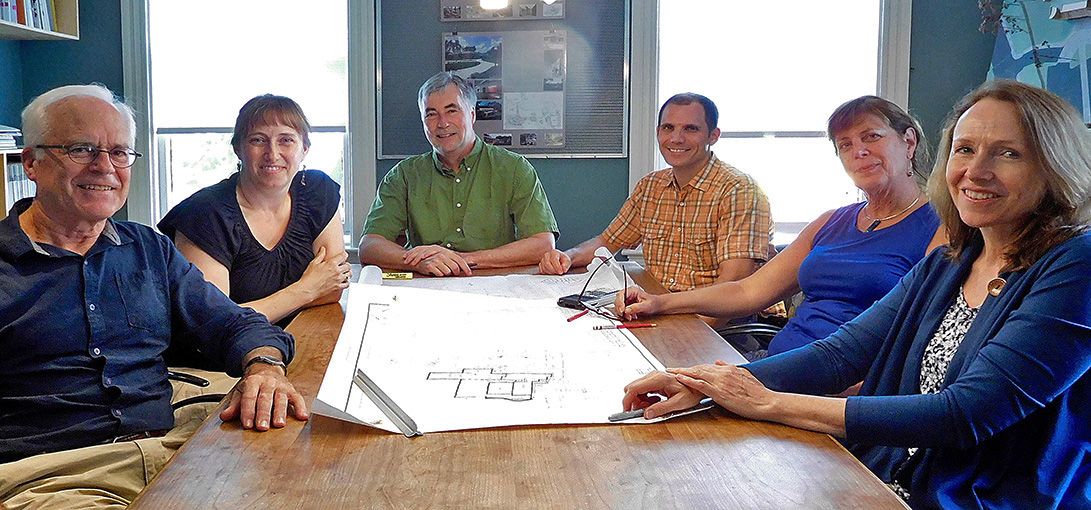 Based in Portland Maine, Whipple | Callender Architects serves clientele throughout New England. Our team is comprised of three Maine Licensed Architects, three architectural designers, an office manager, and springer spaniel named Dash. We are LEED Accredited Professionals with various certified advanced specialties. Established by the U.S. Green Building Council, LEED (Leadership in Energy & Environmental Design) is a green building certification program that recognizes building strategies and practices that save energy, conserve resources, reduce pollution, and contribute to healthy environments. Our commitment to energy conservation took root in the late 70's and has been a cornerstone of our work ever since.
John Whipple and Anne Callender established Whipple | Callender Architects in 1991. For 16 years before that, John worked as a sole proprietor. Anne's husband, architect Joseph Delaney, joined the firm a few years after Anne. Catherine Callender and Nick Canedy came on board in 2015 as designer/drafters. New graduate Jack Riley worked as an intern during school and has now joined the firm full time.
Our work has been roughly equal parts residential and commercial, varied in size and type. Houses and additions are a specialty, as well as medical offices and office planning. Projects vary in size from a 56-bed prep school dormitory to a single light fixture. Most of our work is located in southern Maine, along the coast, and in the Augusta/Waterville areas, but we happily venture beyond the borders of Maine.
Learn more about us individually by clicking on the images below.